Picture Acquisition
Pictures are available to purchase or rent directly from myself as part of a signed limited edition.
The true photographs (not prints) are mounted on matt or gloss acrylic, with a thin art frame and an aluminium hanging frame added behind the picture.
Sizes shown within the portfolio views are the largest suggested picture size and is the size that the picture would normally be displayed in an exhibition or gallery.

Prices are available on request – Contact me through this site for more details – International shipping can be arranged.
Home Gallery
It is sometimes a difficult decision to bring a piece of work into your own home, especially, if you have not seen a piece hanging at an exhibition. The question is often: How will it look, will it work on the wall as well as it does on the computer screen? To help with this I have made here a collection of shots just to give a flavour of how an image, particularly one of the larger images can work in the home or office …

Follow the links below each shot to find a larger view of the original image and to visit the portfolio to which it belongs. Please remember that, necessarily, the images on this website are highly compromised versions of the originals. The following shot shows "Frozen Light" 150 x 100 cm mounted on acrylic in a black Oak Art Box frame.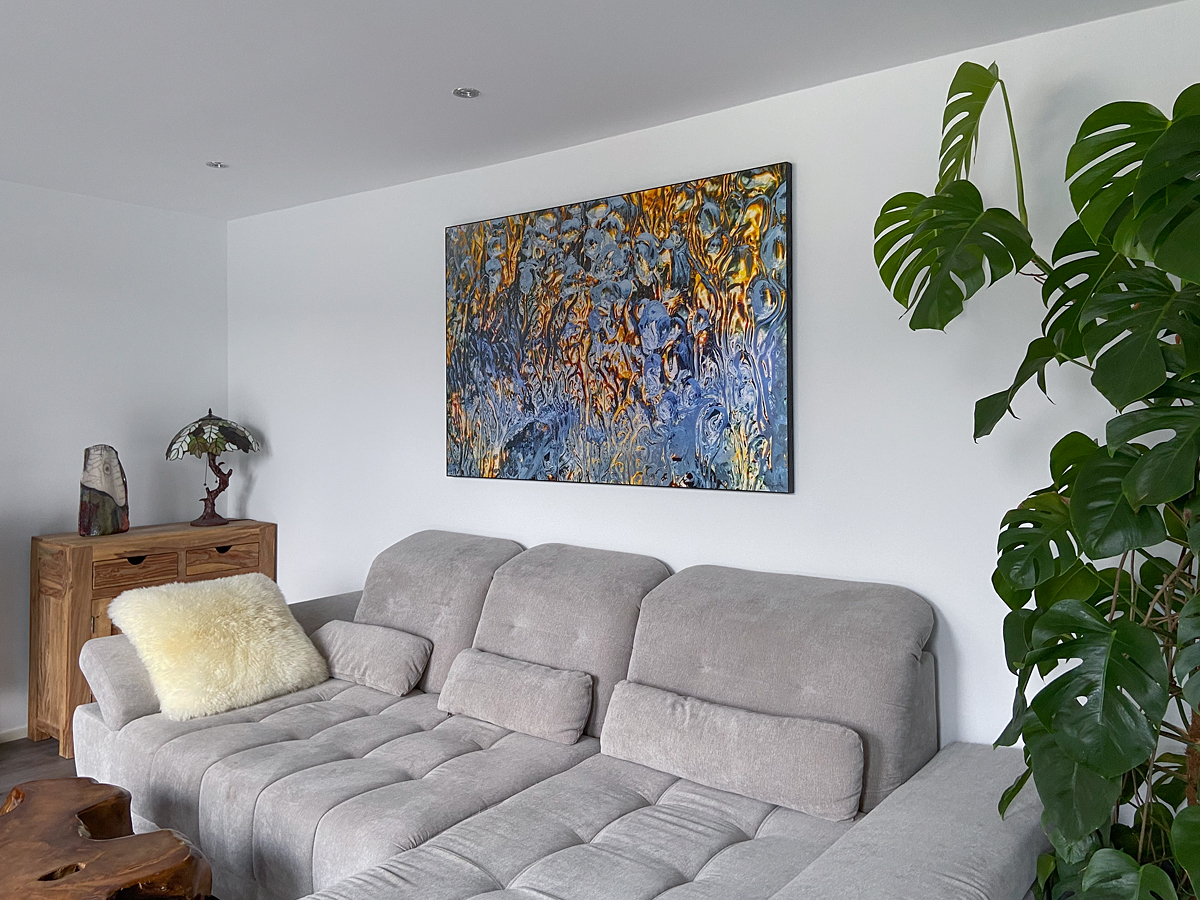 By way of comparison, here is the same shot (also 150 x 100 cm) in an office environment, where the image "Flame I" from the Iceland (2018) Ice Detail portfolio is also being used as a dramatic background wallpaper on the computer presentation monitor.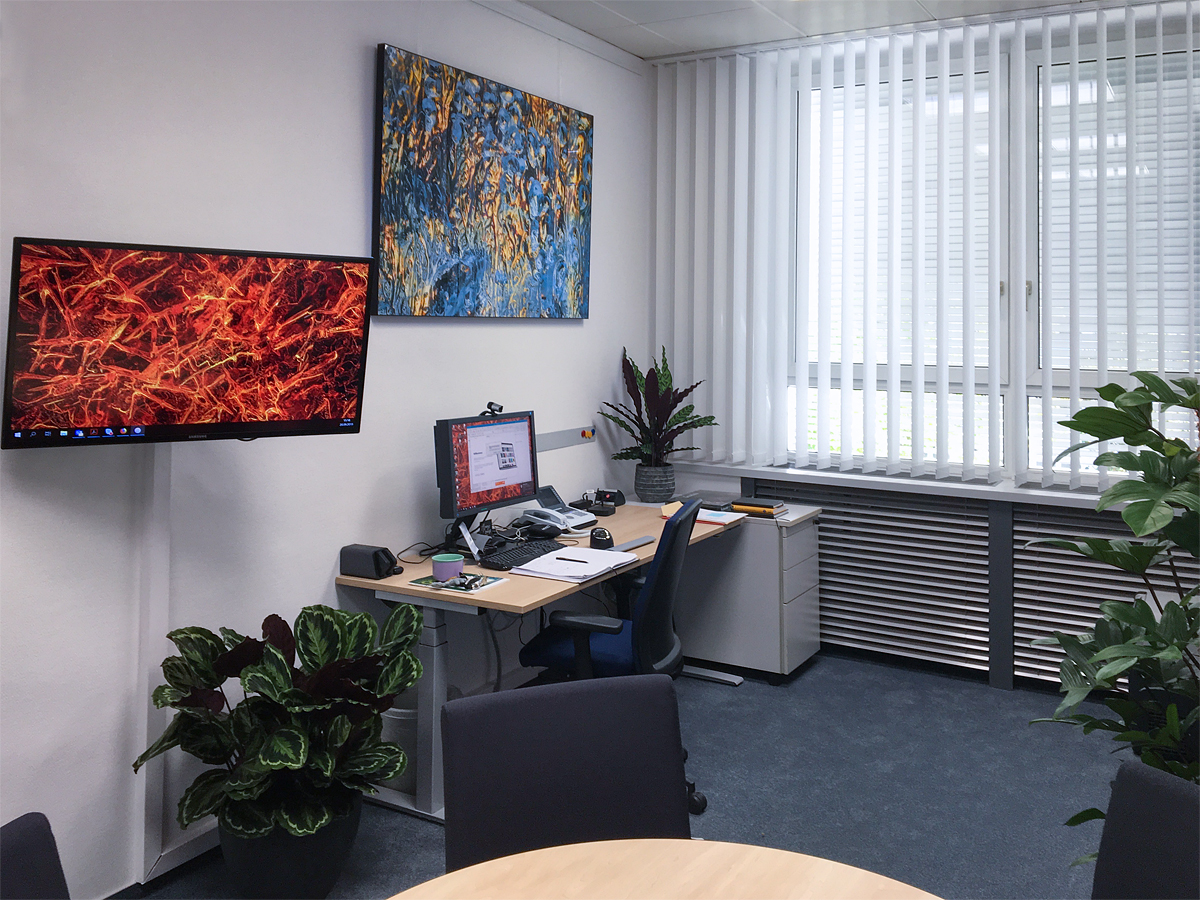 The following two shots show "Blue Ice" 140c x 107 cm and four 20 x 20 cm extracts / details from the Rio Tinto and Verzasca I portfolios. These 4 small images were shown as part of the "Little Treasures" exhibition in Bologna, Italy. The true photographs are mounted on acrylic with an aluminium hanging frame on the back without the Art Box frame.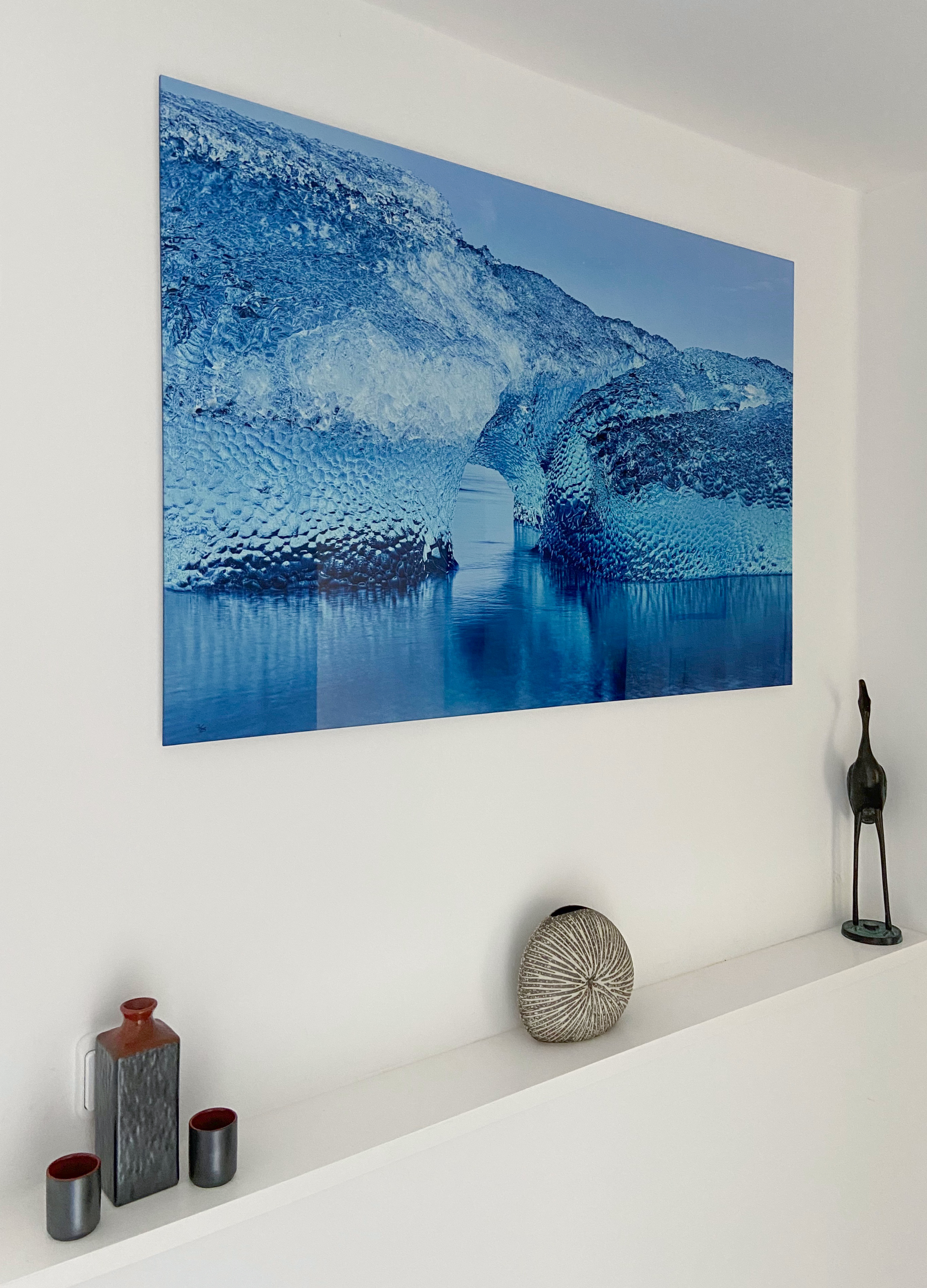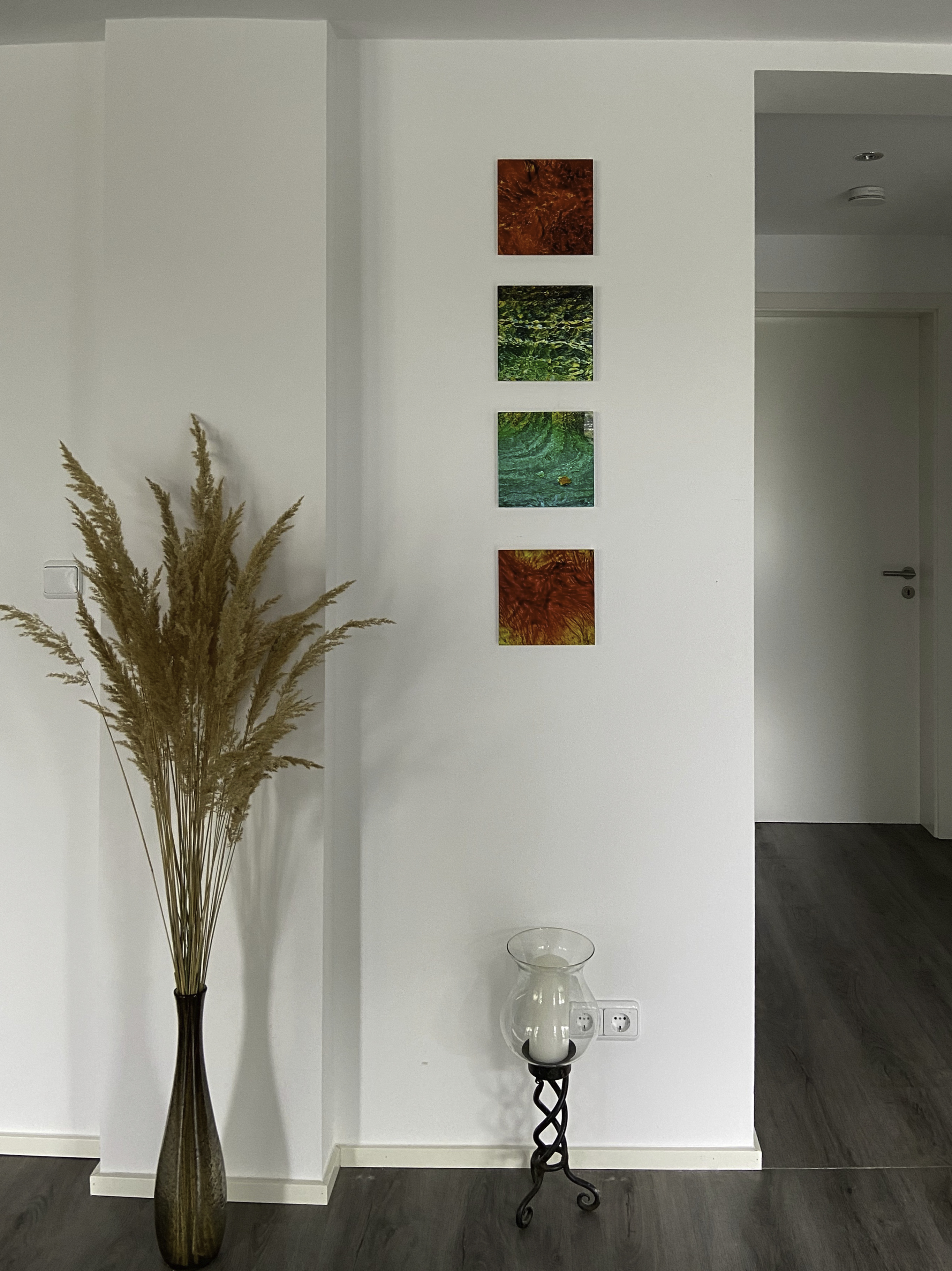 The start of my photography career was marked by my ultra-wide panoramic shots of (predominantly) cites. As such, I find it an interesting counterpoint to my work as a nature photographer to return to working with manmade structures. The two following shots are part of a collection from Paris. Here I was keen to explore the combination of a (near) black and white image, which retains however some interesting focus point as colour. Each image is 67 x 100 cm mounted on matt acrylic with a black Oak Art Box frame.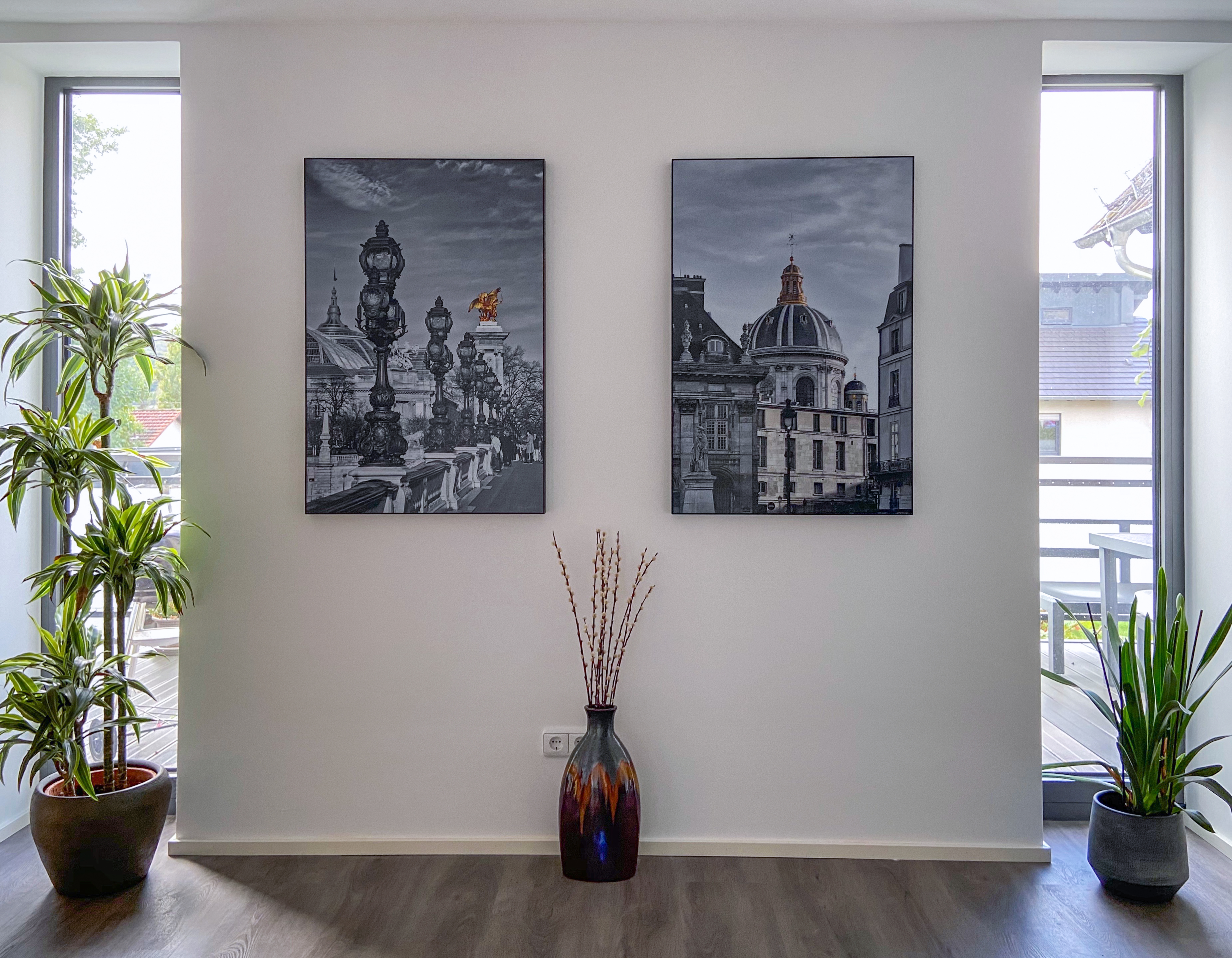 Returning to my nature photography the following living room contains two 150 x 100 cm images with "ice / winter" being the central theme. Stranded was taken at "Diamond Beach", Jökulsárlón, Iceland and actually necessitated entering the unpredictable sea in order to get the foreground and composition I was looking for. The second image, "Essence Of Winter II", is a single exposure, which combines movement and static elements in an attempt to capture the feeling of being lost within a forest in a snow storm.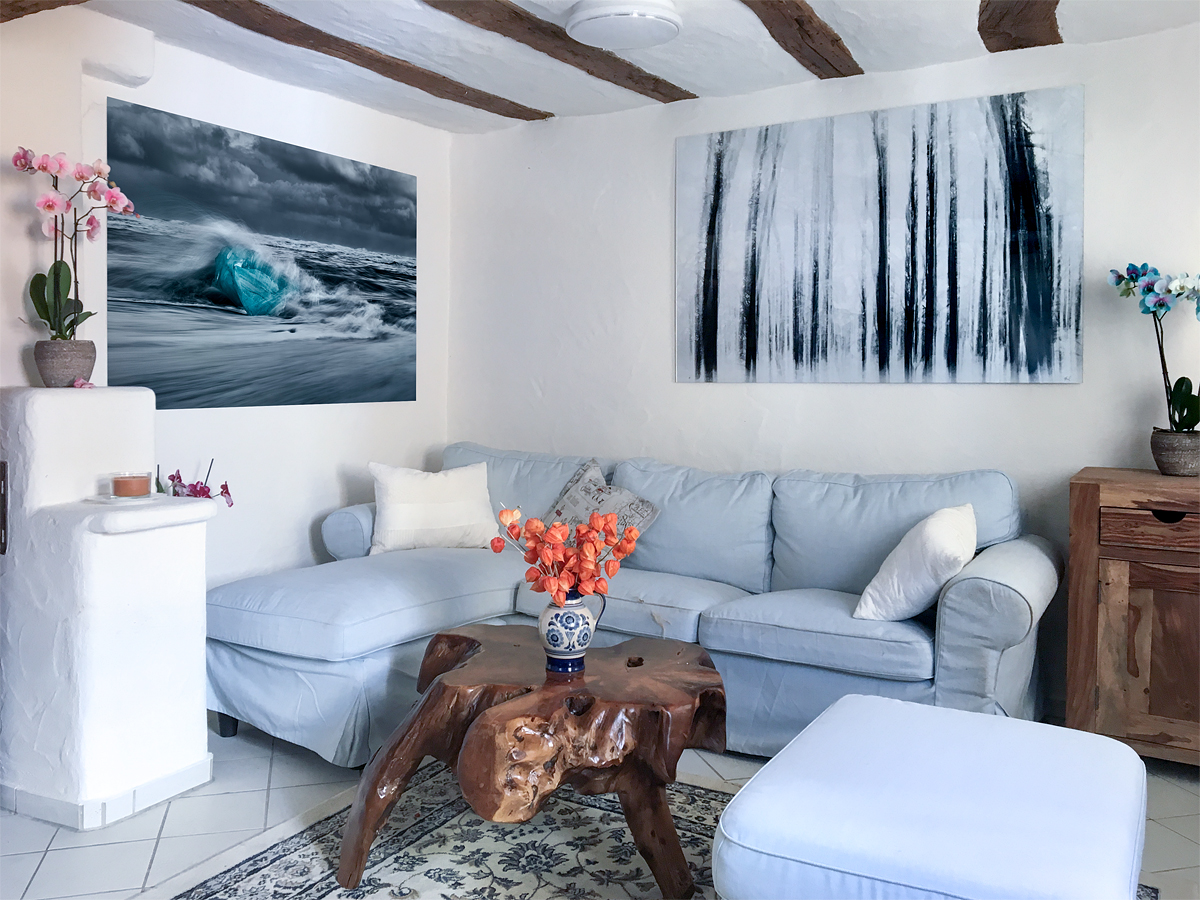 The final shot "Ice Flow II" is also from the Landscape – Iceland portfolio. In a very different environment, the cool tones and contrasting crystalline and fluid structures of this duotone image form a very dynamic counterpoint to the warm tones of this bedroom environment (with many thanks for the permission to show this image).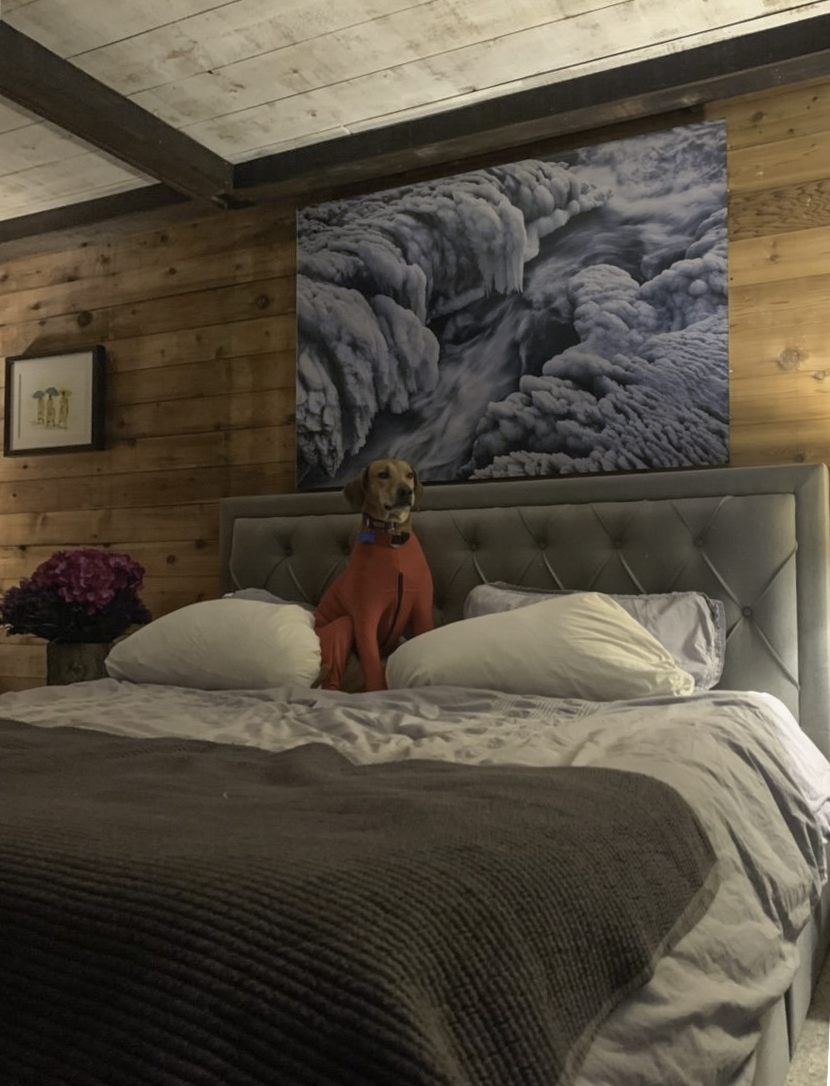 "Ice Flow II"
Portfolio: Landscape – Iceland
I hope the images on show here have given a small incite into how my images, as limited edition, numbered and signed works can be displayed. Take the time to browse through this website and the respective portfolios and, of course, if you have any questions or would like more information feel free to contact me through this website. Enjoy!