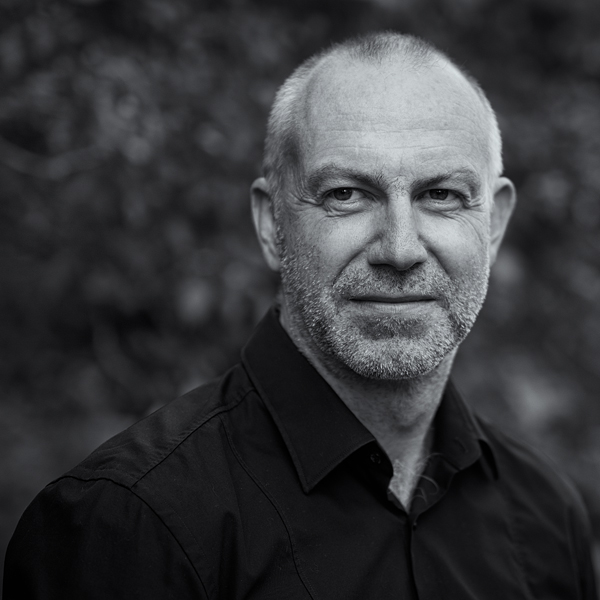 Beauty does not need to have a meaning – it is there, waiting to be found, in all things …
Striving for perfection at every point of the creative process, no aspect of the representation of an image is left to chance. In no other branch of the arts does an understanding of the physical and chemical processes involved play such an important role as with photography. However, many aspects contribute to a final image and, neither the motif itself nor the format and certainly not the atmosphere, the time of day or the resulting colours and their representation are left to chance. My initial photographic work is represented by my trademark wide panoramas of cities or landscapes. These hand stitched works, which really invite you to 'step in' and walk through the image, have found their way into many private and business collections. Nevertheless, it has always been the colours and structures to be found in nature, as well as the underlying chemical processes that lie behind these, which has fascinated me and nature photography is my opportunity to show the awe inspiring beauty of the natural world as I perceive it. Although I sometimes simply show this beauty as I find it, I always try and push the representation of an image to its artistic limits, perhaps even ending with an abstract work. Cropping tightly, contexts like shorelines and horizon are often removed allowing a creative focus on the details and sometimes vibrant colours that excite me. Just as a diamond needs light, so capturing the interplay of subject and light, is often key to achieving the effect I am looking for. This is never more present than when looking at water in its many forms and as such this is very much a preferred motif. I explore passionately the whole year round the boundless reservoir of motifs that nature has to offer: What I see; what I think and feel about what I see; and how this, and these emotions, can be represented in a final image.
In 2012 I returned to film photography (6 x 17cm medium format), being particularly taken by the rich colours from Fuji Velvia film. Searching for a digital equivalent to film, I discovered the Foveon X3 Direct Image sensor from SIGMA and was immediately captivated by the colour and detail that this could deliver. I now own and use a range of cameras from the house SIGMA as well as lenses from SIGMA, Carl Zeiss, Mamiya and Meyer Görlitz. I am a REFERENCE PHOTOGRAPHER for SIGMA Germany and an active photographer for DEIN STERNENKIND.

EXHIBITIONS:

May 2001: Art Galerie MTZ, Sulzbach


September 2001: Kunst und Rahmen Atelier, Wiesbaden


February 2002: Sportpressball – Olympiastand Stadt Frankfurt


February 2004: St'Art, Foire d'Art Contemporain, Strasbourg


May 2004: FIS 10th International Fine Art Exhibition


February 2005: St'Art, Foire d'Art Contemporain, Strasbourg


May 2005: FIS 11th International Fine Art Exhibition


March 2007: FIS 13th Internatinal Fine Art Exhibition


May 2007: Komen Deutschland eV


September 2009: Galerie Sties, Kronberg


May 2010: Bilder Hofmann Galerie Kunsthandlung, Oberursel


April 2011: Galerie Sties, Kronberg


September 2012: Galerie Sties, Kronberg


September 2014: SIGMA Deutschland, Photokina, Köln


November 2015: Agora Gallery, New York, "Illumination"


January 2016: Galleria 360, Florence, "New Art"


April 2016: Biennale Riviera Del Brenta, Venice


May 2016: Tokyo International Art Fair, Tokyo


May 2016: ATIM's Top 60 Masters Of Contemporary Art


September 2016: SIGMA Deutschland, Photokina, Köln


November 2016: "Little Treasures 2016", Bologna, Italy


December 2016: Spectrum Miami Art Show, USA


February 2017: Art In Florence, Galleria360, Italy


March 2017: International Biennale of Mediterranean Art, Palermo


March 2017: Biennale D'Arte, Peschiera del Garda, Italy


March 2017: International Masters, Metropolitan Gallery Of Art, Las Vegas, USA


July 2017: Amsterdam Whitney Gallery, New York, USA


September 2017: SIGMA Deutschland, Photokina, Köln


October 2017: Unique Realities, Ateneo de Madrid, Madrid, Spain


October 2017: Pirmasener Fototage, Germany


November 2017: "Little Treasures 2017", Bologna, Italy


March 2018: Norddeutsche Naturfototage: Lecture (with Ines Mondon)


June 2018: #PHOTOGRAPHY #CITIES, Spazio Tadini Museum, Milan, Italy


September 2018: SIGMA Deutschland, Photokina, Köln


November 2018: Exposicion de Arte Internacional, Ateneo de Madrid, Madrid, Spain


September 2019: Perspektiven Malente – Fototage zwischen den Seen: Lecture (with Ines Mondon)


October 2019: SIGMA DAYS BERLIN 2019: Lecture


August 2020 to February 2021: ZINGST "Eine Augenweide – schön zu sehen, gut zu wissen" (Large Format Vernissage)

PUBLICATIONS AND PRIZES:

ARTisSpectrum Vol. 34


ProfiFoto Spezial 151, Sigma In Professionellen Händen (German)


Leonardo da Vinci Prize, Universal Artist, Florence 2016


Internationale Kunst Heute, 2016


iBook: The SIGMA dp Quattro Cameras In Practice – Mark James Ford & Ines Mondon


WEBINAR: Lichtblick Wochenende (Datacolor Spyder) – Landschaftsfotografie mit Mark James Ford


ATIM Masters Award 2016


ATIM's Top 60 Masters Of Contemporary Art


World Wide Art Books: Current Masters 2, Selected Modern Art


ArtTour International Summer Issue 2016: Cover Story – The Fine Art Photography Of Mark James Ford


World Wide Art Books: International Contemporary Masters Volume 11, Page 76-79


Art Journal Article: Little Treasures 2016, Background Image: "Two Stones"


In recognition of artistic value: Little Treasures Award Of Excellence 2016


ATIM Top 20 Photographers 2017: Cover Story


Für Die Farben Der Natur: Die Malerischen Bilder Von Ines Mondon Und Mark James Ford – Photo Presse 07/17


In Der Natur Zu Hause – fotoPRO Herbst 2017


Maximale Auflösung mit dem SIGMA SFD-Modus – SIGMA BLOG


Naturfotografie Auf Hawaii – Naturfoto, Magazin für Naturfotografie, December 2018


Cover WestJet In Flight Magazine May 2019


Rheinwerk Verlag: FOTOGRAFIEREN IN DER NATUR (German)


Amazon.de: FOTOGRAFIEREN IN DER NATUR (German)


DigitalPHOTO – BILDGESTALTUNG IN DER PRAXIS


SIGMA Blog (German): Using the SIGMA fp with a field monitor


Close-Up Photographer of the Year: Intimate Landscapes 2020